Today is my last full day in Peru. It's kind of a bummer that it is raining right now in Cusco since I wanted to go hike up to the Jesus statue at the top of town. It's a bit too wet, slick, and cold for me to make the trek in my semi-sick state. It is alright though, because it didn't rain during my half day tour, and it was a lot better than I was expecting.

I groaned a bit when our first stop was a textile market in Chinchero. However, this stop turned out to be pretty nice because one of the women there gave us a nice overview of their entire manufacturing process, starting from raw wool to cleaning, to spinning, to dying, to respinning, and finally weaving. I thought that the coolest part was the fact that they have this root that they shave in the water and it becomes a natural soap.


Above: Chinchero Textiles Market
The salt mines were up next, and only cost 7 soles to get into. The price was about right–I thought it looked neat, but there ultimately wasn't a whole lot of content. I felt that the 45 minutes we had there was actually sufficient to see everything. I learned that they got over 1 ton of salt per year from each pool, which is an epic amount of salt, considering how large the mine was.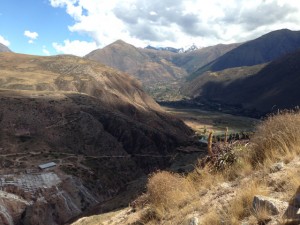 Above: Salt Mines From Far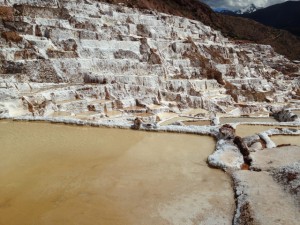 Above: Salt Mines Close Up
Next, we went to the Moray ruins, which were a type of agricultural laboratory for the Incas. There were four huge terraces, one which simulated the growing conditions for each of the four Incan "states". The terraces were pretty impressive, and apparently they were able to create numerous microclimates for each level based on the type of soil, irrigation, and height. According to our guide, the temperature difference could be as much as 10C between the top and lowest levels.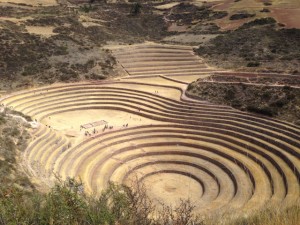 Above: Moray Ruins
Overall, I think this tour was worth it because it was pretty cheap. Even though we didn't get a whole lot of time at each site, I think it was about right for them.